Prepare to be enthralled as we shine our spotlight on a virtuoso of visual arts, a beacon of inspiration in the world of abstraction – Dan Shaw-Town. Hailing from the United Kingdom, Dan's remarkable artistic prowess and enduring dedication have added a vibrant stroke to the canvas of East End Arts community.
Born in 1983, Dan's voyage into the realm of art truly began to blossom after his Bachelor of Arts degree in Fine Art from London Metropolitan University. His thirst for deeper exploration of artistic expression led him to the prestigious Goldsmiths College, University of London, where he acquired a Master of Fine Arts degree, fueling his journey towards global recognition.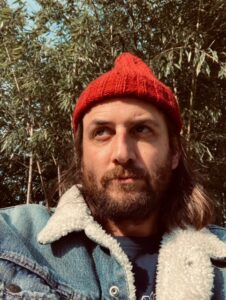 Dan's artistic portfolio is as impressive as it is diverse, mesmerizing audiences across Europe and the United States with his captivating solo exhibitions. Esteemed galleries such as MaisterraValbuena in Madrid, Unosunove in Rome, Seventeen in London, Room East in New York, and China Art Objects in LA have all played host to Dan's distinctive artistic voice. Visitors to these renowned establishments have been left in awe of his creative vision, experiencing the power of his work firsthand.
In addition to his solo exhibits, Dan has participated in numerous group exhibitions that have further solidified his standing in the art world. Renowned institutions such as the Denver Museum of Art, Lisson Gallery in London, Marianne Boesky Gallery in New York, the Indianapolis Museum of Art, the Malvina Menegaz Foundation in Castelbasso, Italy, and the Leeds City Art Gallery in the UK have all acknowledged Dan's significant contributions and shared his work with discerning audiences.
In the midst of this vibrant artistic landscape, Dan Shaw-Town's partnership with East End Arts shines as a compelling example of his community impact. With a keen eye for talent, Dan orchestrated an immersive intensive program for the victorious artists of the MLK Portrait Project's People's Choice Awards. This program has been a milestone in the artistic journeys of these young visionaries. His mentorship, a harmonious blend of inspiration from his own remarkable skills and the empowerment of new, innovative tools, enriched their artistic processes profoundly.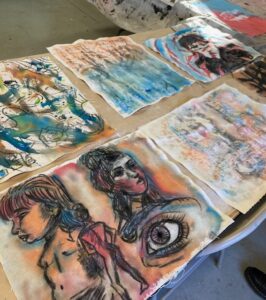 Dan's influence on the East End Arts community is a symphony of color and passion. His boundless enthusiasm, open-mindedness, and genuine encouragement towards aspiring artists to explore the path less tread is truly remarkable. The way he embraces diverse ideas and fosters collaboration has firmly established him as a cherished figure in the art world.
In summary, Dan Shaw-Town is not merely an artist; he is a master of abstraction, a visionary whose talent and dedication have left an indelible mark on the world of art. By imparting his knowledge and inspiring budding artists, he has cemented his place as a true pillar of East End Arts.
Join us at East End Arts and experience the power of abstraction under the expert guidance of remarkable educators like Dan Shaw-Town. Let's shape futures through art, one stroke at a time. Are you ready to paint your masterpiece? Register for classes today!