Tiny Tots Music Discovery – 2.5 to 4 years
September 7 @ 2:00 pm

-

3:00 pm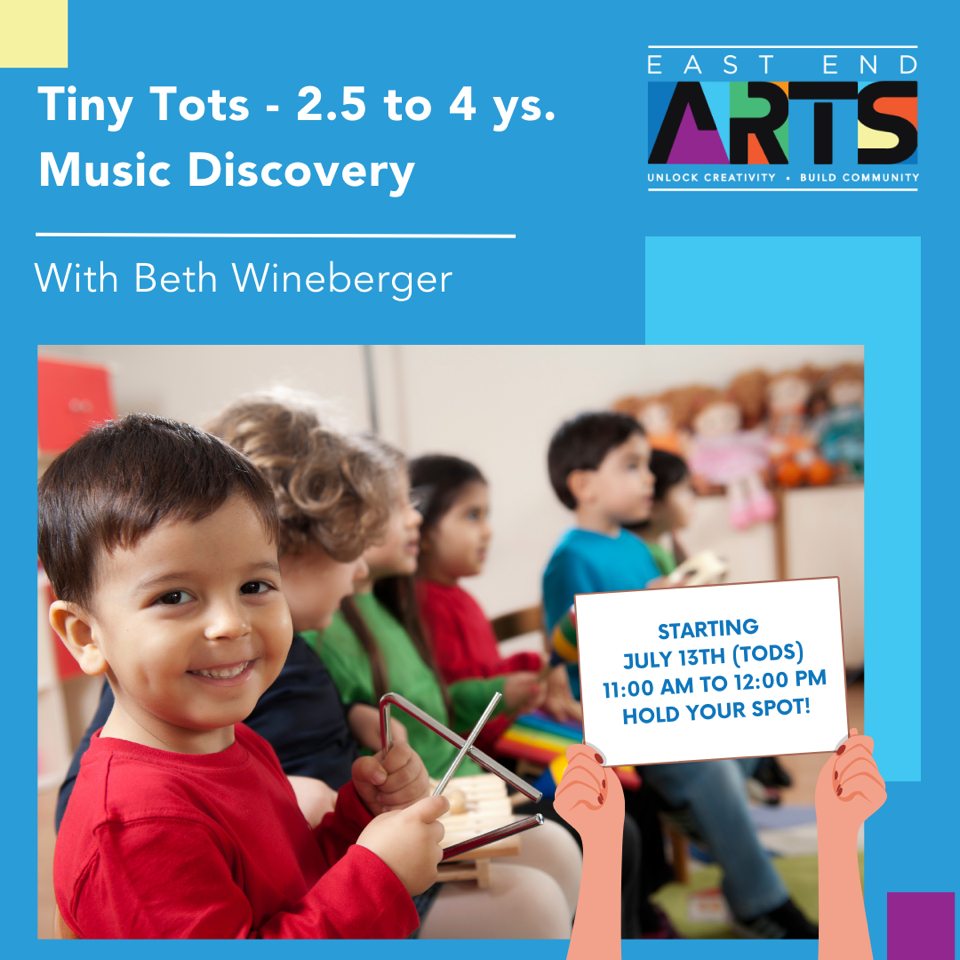 Starting Thursday, July 13th, 2023 |2:00 to 3:00 PM EDT | School Music Room
Tiny Tots Music Discovery
with Beth Wineberger
Our Toddler Music class, Tiny Tots Music Discovery, is led by Beth Wineberger, a highly experienced elementary teacher from Southold, with a specialization in Kindergarten and 1st grade. In addition to her classroom teaching experience, Beth has extensive background knowledge in teaching music to toddlers. We are thrilled to welcome her to the East End Arts family, and to have her bring her expertise and child study knowledge to this fantastic program.
As a local teacher, Beth understands the importance of early childhood education and the role that music can play in fostering children's development. With her warm and engaging teaching style, Beth creates a safe and nurturing environment that encourages children to explore and express themselves through music. With her wealth of experience, she is equipped to address the unique needs of each child in the class, ensuring that every child receives the attention and support they need to thrive.
Join us for a dynamic and enriching music program, led by a highly qualified and caring teacher who is committed to your child's growth and development.
Parents/Guardians are expected to stay and participate in this wonderful social music experience.
Thursday, July 13, 20, 27, August 3, 10, 24, 31, & September 7, 2023
Tods – (2.5 to 4 years)
11:00 am to 12:00 pm
We will use a flexible enrollment:
8 sessions: $175 (receiving one session free)
Member 20% Discount: $140.00
6 sessions: $150.00 to use over the 8 session summer
Member 20% Discount: $120.00
Individual classes for $30.00 each.
Member 20% Discount: $24.00
There will be no make-ups.

Related Events