Summer Kids Camp Camp C.I.A. (Create, Interpret, Ask) August 28 to September 1 – Half Day
August 29 @ 9:00 am

-

12:00 pm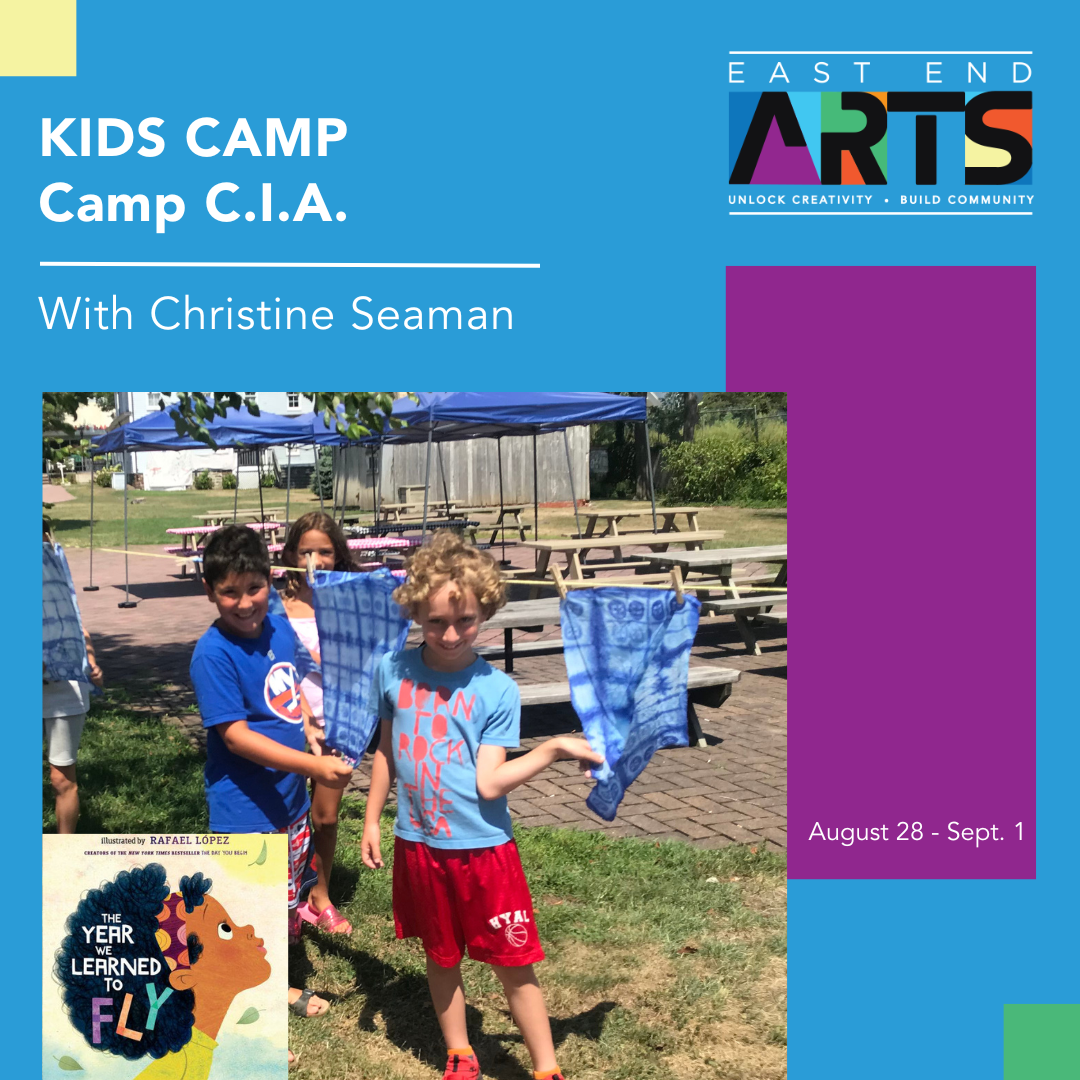 Summer Kids Camp
Camp C.I.A
(Create – Interpret – Ask)
Ages 5 to 7 and 8 to 10
East End Arts hosts (8) one-week camps offering either Full Day or Half Day options.
Creating, Interpreting, and Asking questions. Camp C.I.A.
Our Book of the Week:
The Year we Learned to Fly, by Jacqueline Woodson.
A tale passed down through generations to harness the skill of quiet meditation to show the world the strength and resilience of their beautiful and brilliant minds.
Half Day: Monday – Friday • 9:00 am – 12:00 pm – AM
Half Day: Monday – Friday • 12:00 am – 3:00 pm – PM
Lunch: (bring your own) 12:00 to 12:30
To REGISTER your child for camp please answer ALL questions at check out and upload all documents. Receive a 10% discount for each additional child registered. Enter code – sibling discount – to view prices for multiple siblings.
CAMP REGISTRATION FORM MUST BE SUBMITTED PRIOR TO REGISTERING FOR CAMP
Half-Day/Full Week – $225.00, Member 20% Discount – $180.00
Early Morning & Aftercare Hours
Early morning care is offered from 8:30 – 9:00 AM
Aftercare is available from 3:00 – 5:00 PM
Aftercare includes modified camp activities.
Cost: $30 per day or $100 per week
Don't forget to register now for other weeks before they fill up!

Related Events